FoxAlien
CNC Router Masuter Pro
SKU: CNC-Masuter-Pro |
€633,79
€704,22
Save

€-70,43
International Shipping Available
Lifetime Customer Support
Structure Upgrade: Masuter Pro is an All-Aluminum CNC router, which makes the machine sturdier than the last version. The Z-axis uses linear rails instead of the optical axis, this greatly improves the stability and accuracy.
Upgraded Controller Box: The control board is upgraded to a compact controller box. The emergency stop button and home button are more easily and more convenient to access. The control box is also dust-proof for easy maintenance.
Compatibility Upgrade: Masuter Pro includes 2 spindle clamps: 52mm & 65mm. The 52mm clamp can accommodate the 60W spindle, 300W spindle and the FoxAlien laser modules. The 65mm clamp is for customized upgrade, such as 65mm Makita router, 1.5KW spindle, etc. Masuter Pro also supports the 69mm spindle clamp, please buy separately.
Assembly Upgrade: Main parts are pre-assembled, and the part of the wires are pre-installed to the controller box. It takes only 10-15 minutes to fully assemble.
Additional Working Light: A small working light is added to the Z-axis. It helps you to monitor the carving details and process more clearly. Each stepper motor has a knob for easy adjusting by hand.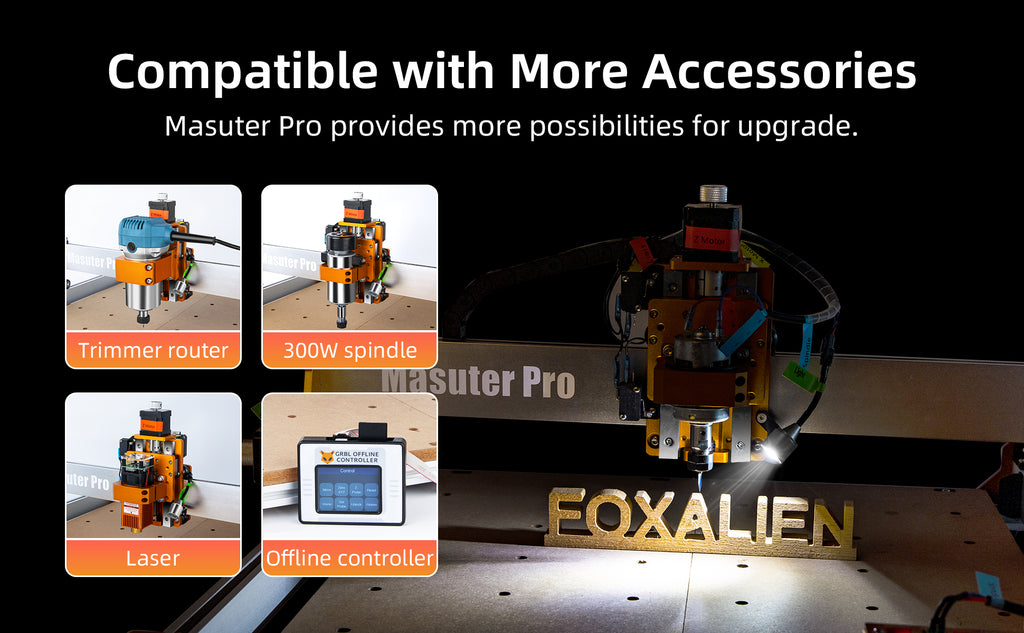 Specifications:
Active Working Area: 15.75" x 15.75" x 2.36" (400 x 400 x 60mm)

Spindle: 775; 10000RPM

Input Supply: 12V/5A

Stepper Motor: 1.3 A, 12V, 0.25 Nm torque (2.2 in lb)

Supported OS: Windows XP/7/8/10/11, MAC OS, Linux 
Package List
1x Masuter Pro CNC Router Machine (Main part pre-installed)

1x Z Probe

1x Controller Box

4x Hold-down Clamp

1x 52mm Spindle Clamp

1x 65mm Spindle Clamp

1x Power Supply

1x USB Cable

1x U Disk

1x User Manual

10 x Router Bits

Packs of screws
I have to thank James Dean Designs because it was him who said to choose this CNC. The machine is very good. I'm very glad
A*
I'm very happy with my machine, it's my first CNC machine. It didn't take very long to build at all and was really easy., it's very solid. I bought the machine to mill foam out for tool storage. The support from alien fox and Facebook messenger has been really good, all questions I asked they answered the following morning. Very happy with my machine and the price is unbelievable really for what you get, there is other machines out there double the price.
So far so good! (beginner)
I have some basic experience with CNC machines using Aspire at my former school lab, but that was ages ago and I discovered that Aspire is quite expensive :(
I was originally looking at a X-Carve from Inventables so I started messing around with Easel just to see how it worked while i saved up for an X-Carve. Then, i saw that Easel had a machine preset and saw FoxAlien on the list of supported machines (among other machines) and I did some research on them and came across a posting for the Masuter Pro at a GREAT price point, so asked around on Reddit and Tumblr, and watch a bunch of reviews on FoxAlien machines, and everyone would recommend them as great quality budget CNCs. Nevertheless, the machine is extremely well made, does not feel cheap or flimsy (compared to other tagged Budget Machines), it took me maybe 20 min to put it together.
I've had the machine for 2 weeks and it's been really great! I bought a Makita router, low profile vise(waiting on it), external controller (also waiting on it), and a shopVac with the extra money that I saved from going FoxAlien instead of X-Carve.
It does require some knowledge on milling and spindle calculations so if you're a beginner you'll have to do your research :) Easel does pretty well calculating feed rates but it does need some adjustments once in a while, keep in mind that Easel runs on both Inch and mm.
Also! I'm running Candle on an Apple Mac at the moment, I had to search for the software online and do some minor changes to have it run on the current OS, but it works like a charm :) However! if you plan on using a Mac to run your machine instead of the controller, make sure you turn off the automatic Sleep since it will halt the machine, you can compensate on the G-code to re-start where you left but it doesn't always work.
So far i've been using the machine to make woodblocks for printmaking and a couple other little tests here and there :) I'll probably rate the machine again in 6 months to see how does it do
Fox alien 4040 master pro
The machine runs very smooth being a newbie there's a lot to learn on how to make it do what I want
Awesome machine
I have to give a big hand shake to FoxAlien, their new Masuter Pro is an awesome machine. I've had it less than a week and have thoroughly enjoyed playing around with it.
The upgrades they have made are really solid and I highly recommended it if you are after a quality machine, but don't have the budget for a more expensive one. The Masuter pro will serve you well!
A spindle upgrade is a must for bigger projects, but with the included spindle holders and adapters that come with it, there are plenty of options to choose from.
I'm looking forward to seeing how much I can do with this machine.