FoxAlien
CNC Router Masuter Pro
SKU: CNC-Masuter-Pro |
$940.49
$1,045
Save

$-104.51
International Shipping Available
Lifetime Customer Support
Structure Upgrade: Masuter Pro is an All-Aluminum CNC router, which makes the machine sturdier than the last version. The Z-axis uses linear rails instead of the optical axis, this greatly improves the stability and accuracy.
Upgraded Controller Box: The control board is upgraded to a compact controller box. The emergency stop button and home button are more easily and more convenient to access. The control box is also dust-proof for easy maintenance.
Compatibility Upgrade: Masuter Pro includes 2 spindle clamps: 52mm & 65mm. The 52mm clamp can accommodate the 60W spindle, 300W spindle and the FoxAlien laser modules. The 65mm clamp is for customized upgrade, such as 65mm Makita router, 1.5KW spindle, etc. Masuter Pro also supports the 69mm spindle clamp, please buy separately.
Assembly Upgrade: Main parts are pre-assembled, and the part of the wires are pre-installed to the controller box. It takes only 10-15 minutes to fully assemble.
Additional Working Light: A small working light is added to the Z-axis. It helps you to monitor the carving details and process more clearly. Each stepper motor has a knob for easy adjusting by hand.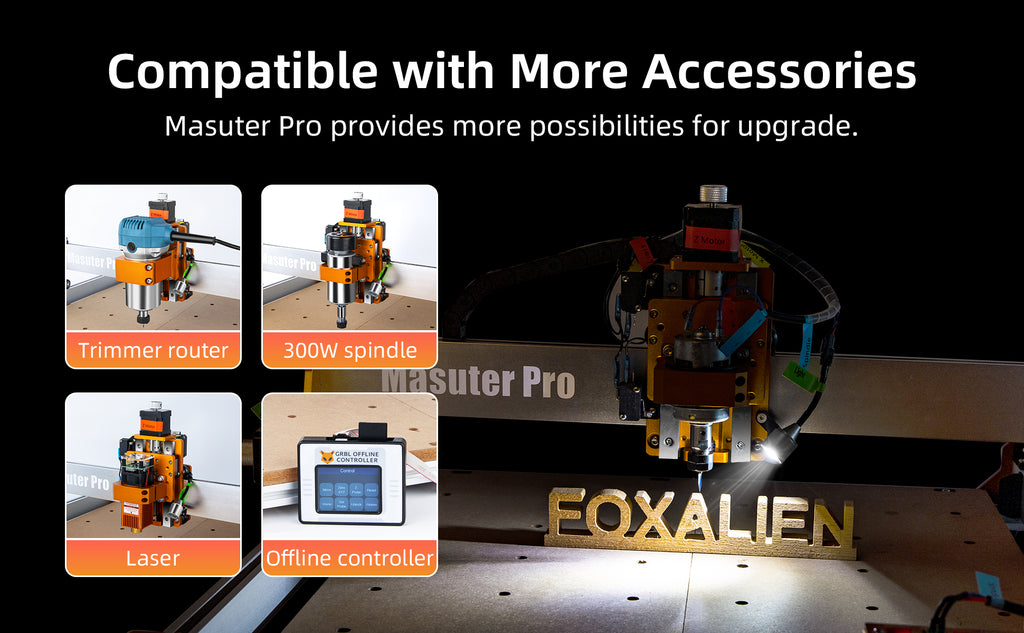 Specifications:
Active Working Area: 15.75" x 15.75" x 2.36" (400 x 400 x 60mm)

Spindle: 775; 10000RPM

Input Supply: 12V/5A

Stepper Motor: 1.3 A, 12V, 0.25 Nm torque (2.2 in lb)

Supported OS: Windows XP/7/8/10/11, MAC OS, Linux 
Package List
1x Masuter Pro CNC Router Machine (Main part pre-installed)

1x Z Probe

1x Controller Box

4x Hold-down Clamp

1x 52mm Spindle Clamp

1x 65mm Spindle Clamp

1x Power Supply

1x USB Cable

1x U Disk

1x User Manual

10 x Router Bits

Packs of screws
Amazing Machine
I have been using the Masuter Pro for a few weeks now and I gotta say, it is an amazing machine. It does great with signs and V carving. And the 3d reliefs turn out really nice. You can't beat it for the price. I thought I would have to pay thousands for a machine to make these kind of projects, but the Masuter Pro handled them with ease.
came with a broken light bracket but quickly replaced
good machine, easy to assesmble. there were flat spots on the wheels but once i started using it everything smoothed out. the light mount on the x carriage was broken but support replaced it without any quibbles. much better machine than my old 3018, v happy!
Gift for wife
Bought a couple of months ago. Will be honest had a few teething issues. Fixed those though, wiring for the z probe is poor, made guards for the y axis rails. That said though for my first CNC router it's been fun.
Pic is of a carve for my wife, 1/4EM @ 17000rpm at 800mm/min speed, and same for a 1mm dia TBM for finishing, 90 deg V bit for the text. Oiled and wax to. Finish,
CNC Machine
I was very pleased with the packing and quick shipment of my machine. The inventory sheet is a big help with the product picture and description and quantity of each item. The manual is very well laid out and easy to follow.
Just what I needed.
Great cnc. Preordered it, but waited awhile before review. So far i have cut wood and brass with this, works great. Only limited by the software you use. If you have any problems with the cnc not moving smoothly when you first assemble it. Its probably the rubber wheels, just move it back and forth for a bit. Just how rubber parts work, when stored for a long time.
Great product
Product, service, shipment and documentation are excellent.
Congratulations to the FoxAlien team!
Master pro
This is my first ever CNC / laser and I was worried how difficult it would be to assemble. Those fears were groundless as it was super simple.
After using it for a few days I have the following comments.
1 the supplied spindle is very poor so I upgraded at once to a 300w Makiita router but now cannot but the controller separately from Masuters own (and more expensive) version.
2 it creates a vast amount of dust and Particles and definitely needs a skirt around the spindle, unfortunately none seems available from Masuter.
3 the output is simply superb.
Great product. Very happy with it.
This is my first CNC machine. Assembly was easy. Took a few tries to get control of the router through the software, but once I figured that out everything works perfect and configuration is simple.