FoxAlien
CNC Router Masuter Pro
SKU: CNC-Masuter-Pro |
International Shipping Available
Lifetime Customer Support
Structure Upgrade: Masuter Pro is an All-Aluminum CNC router, which makes the machine sturdier than the last version. The Z-axis uses linear rails instead of the optical axis, this greatly improves the stability and accuracy.
Upgraded Controller Box: The control board is upgraded to a compact controller box. The emergency stop button and home button are more easily and more convenient to access. The control box is also dust-proof for easy maintenance.
Compatibility Upgrade: Masuter Pro includes 2 spindle clamps: 52mm & 65mm. The 52mm clamp can accommodate the 60W spindle, 300W spindle and the FoxAlien laser modules. The 65mm clamp is for customized upgrade, such as 65mm Makita router, 1.5KW spindle, etc. Masuter Pro also supports the 69mm spindle clamp, please buy separately.
Assembly Upgrade: Main parts are pre-assembled, and the part of the wires are pre-installed to the controller box. It takes only 10-15 minutes to fully assemble.
Additional Working Light: A small working light is added to the Z-axis. It helps you to monitor the carving details and process more clearly. Each stepper motor has a knob for easy adjusting by hand.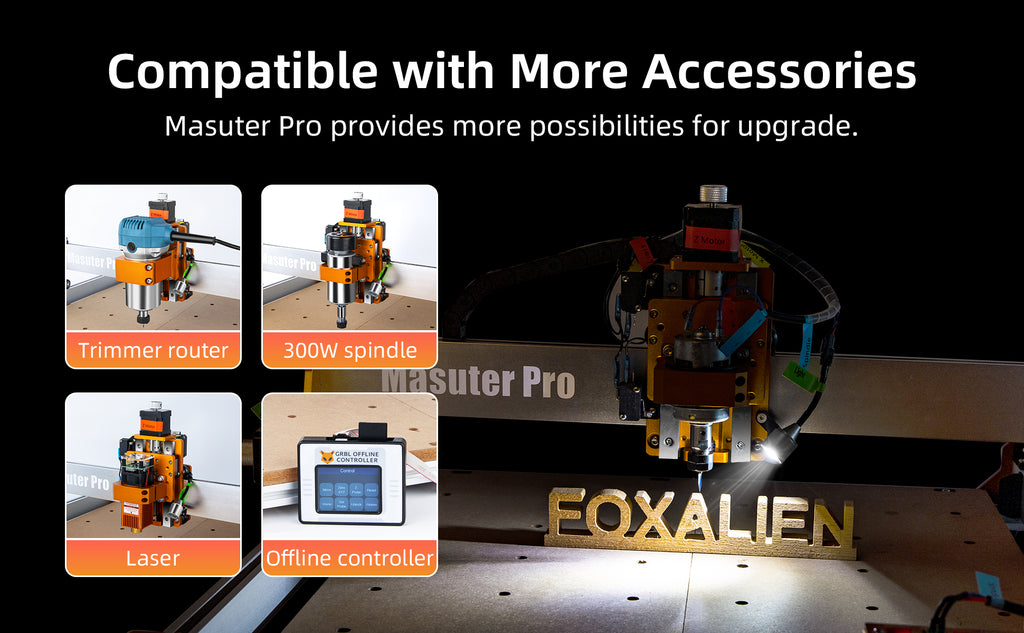 Specifications:
Active Working Area: 15.75" x 15.75" x 2.36" (400 x 400 x 60mm)

Spindle: 775; 10000RPM

Input Supply: 12V/5A

Stepper Motor: 1.3 A, 12V, 0.25 Nm torque (2.2 in lb)

Supported OS: Windows XP/7/8/10/11, MAC OS, Linux 
Package List
1x Masuter Pro CNC Router Machine (Main part pre-installed)

1x Z Probe

1x Controller Box

4x Hold-down Clamp

1x 52mm Spindle Clamp

1x 65mm Spindle Clamp

1x Power Supply

1x USB Cable

1x U Disk

1x User Manual

10 x Router Bits

Packs of screws
This Machine is a rockstars
Great Fun
I have had a great experience from the ordering to the delivery. The machine was easy to assemble and fun to learn. I was looking for an upgrade to my woodworking hobby and this machine foots the bill. Both the price and the quality were what I needed. I am happy with my purchase so far.
A well machined CNC router
FoxAlien got 100% from me on this CNC router. The package was neatly packed, promptly shipped with excellent colorful instructions. CNC machine itself was well produced and function really good and I am looking forward to productive projects.
I will like to suggest that the controller should be made to allow for GRBL updates via SD card interface.
Great piece of kit
Setup went well for me, spoilboard created thanks to James Dean Designs. First project went off without a hitch. Still experimenting and looking forward to it!
Great tabletop cnc.
I purchased the Masuter Pro and received it about 2 weeks ago. I am truly impressed with this machine and I haven't even upgraded anything yet. I plan on getting the router set up within the next month. But, with the 60 watt spindle I have been able to carve several projects without any issue. A great buy, I am VERy happy with this purchase.
Great Machine and a solid build quality
I have a lot of experience with laser CNCs and 3D printers. Never a CNC routers. I bought the Masuter Pro with the 60w spindle because the low entry price and ability to upgrade it. Overall experience has been positive. Communication with FA has been great even with the time difference from the states to their HQ. The build was a very simple process. Directions were easy to follow, plus there are some great videos on YouTube. Out of the box, everything is square enough to make some test cuts. I would still recommend fine tuning the machine to guarantee accurate cuts. Again, there are great YouTube videos out there. I have only made a few cuts but they all seem to get better than the last one. Expect a learning curve with the CAM side of things! There is also some great resources on Facebook.
Great CNC but really shines when upgraded.
First off, I have received nothing from FoxAlien for this review. Their community is only on Facebook and this is a real sticking point for me. Facebook communities are notoriously toxic. An independent online forum is a much better way to go. Luckily, I rarely need help. I have modified my Masuter out to 1000mm with a reinforced bed and it is working great. If you are handy with CAD and 3D printers you can make the other necessary components to do fairly easy upgrades to this CNC. Overall, it's a great first CNC that can be upgraded to grow a bit with you. The touts that it will machine aluminum and steel are real. But, you should know the feed rate and stepdown has to be so slow it would not be worth it for most. It can do it but, super slowly. Also worth noting, I bought the 300w spindle upgrade and it came with a set of open ended spanners that are so loosely spec'd that they are causing premature wear to the spindle collet. I have had to toss them and use my own tools. The 13mm and 14mm both measure out to 13.7 and 14.5 respectively. I know that are "included" tools but, for a CNC company, they should be within tolerance at least. As for the tools that come with the machine itself, the Allen keys are a bit soft, as are the screw heads. Plan on replacing them down the road. And definitely use blue loctite when assembling. Overall 4.5 stars. Better included tools and screws, a stiffer bed and easily a 5 star machine. Even then, there is always room for improvement.
Lastly, using Amazon for distribution again is a sticking point for me. The first machine that I ordered, never arrived. When trying to cancel through Amazon it was a nightmare. Basically locking you out until specific dates and refusing a refund. I then ended up re-ordering through their website directly. This was also shipped through Amazon. And the Amazon driver delivered it to another house in the neighborhood. Our houses here are all clearly marked both on our mailboxes and large numbers on the houses themselves. No you might say, "Well that's Amazon's Fault" but no. Fox Alien chooses to use them. They very well know that they are prone to screwing things up. So this is on Fox Alien themselves. Be aware, Amazon is involved in your shipment in the US, no matter where you order it from.
Very Satisfied
When received, my initial impressions were very positive, high quality parts, all tools required for assembly provided, well written instructions. The assembly process and getting connected to my PC did not take long, and getting to the point of running the test code on the sample piece of wood (also provided) with the router bits provided did not take long.
I will be upgrading the 60W router to a higher power (500W+) and maybe adding some dust shields to the side rails. I'm really looking forward to getting more familiar with the equipment and software and finding out just how capable this is. My only critique of the whole design might be that the two halves of the spoil board do not lay flush to each other. Might be adding a brace under there to keep them level, also the cable tray does not appear to be able to lay additional cables in there by opening the tray (for a router upgrade), but cables have to be pulled through meaning the tray will have to be removed.
Bottom line - very happy with my Masuter Pro. Solid machine for the money, and for the most part, upgrades / customization have been kept in mind....
Amazing Machine
I have been using the Masuter Pro for a few weeks now and I gotta say, it is an amazing machine. It does great with signs and V carving. And the 3d reliefs turn out really nice. You can't beat it for the price. I thought I would have to pay thousands for a machine to make these kind of projects, but the Masuter Pro handled them with ease.
came with a broken light bracket but quickly replaced
good machine, easy to assesmble. there were flat spots on the wheels but once i started using it everything smoothed out. the light mount on the x carriage was broken but support replaced it without any quibbles. much better machine than my old 3018, v happy!